↓↓↓↓↓↓↓↓↓ Blog Post Starts Below ↓↓↓↓↓↓↓↓↓
---
---
FRCP Rule 11
Posted: February 20, 2014 12:55 AM PST The Federal Rules of Civil Procedure govern civil proceedings in U.S. district courts. "Their purpose is 'to secure the just, speedy, and inexpensive determination of every action and proceeding.'" Rule 11 governs representations made to the court; sanctions; and signatures on submissions to the court. Specifically, section 11(b) provides the standard a judge must use to determine whether a case is frivolous under the law. Prior to 1993, Rule 11 required mandatory sanctions for attorneys filing frivolous lawsuits and did not contain the 21-day safe harbor. Since 1993, Rule 11 of the Federal Rules of Civil Procedure, which helped to prevent frivolous filings, has been hamstrung by changes that loosened its effectiveness. Because of the changes, parties and their counsel are allowed to avoid sanctions simply by withdrawing their frivolous claims within 21 days. This change has removed real incentives for attorneys to avoid frivolous filings. On Thursday, November 14, 2013, the House began consideration of House Resolution (H.R.) 2655, the Lawsuit Abuse Reduction Act of 2013, under a rule. H.R. 2655 was introduced on July 11, 2013 by Rep. Lamar Smith (R-TX) and has seven cosponsors. H.R. 2655 was marked up on September 11, 2013 by the House Committee on the Judiciary and was ordered to be reported, as amended, by a vote of 17-10. H.R. 2655 restores "teeth" to Rule 11 of the Federal Rules of Civil Procedure by making sanctions mandatory when the rule is violated, thereby deterring frivolous lawsuits. H.R. 2655 makes three changes to Rule 11: it 1) requires courts to impose sanctions against parties that file frivolous lawsuits in violation of Rule 11; 2) eliminates a "safe harbor" provision that allows parties to file frivolous lawsuits and then avoid sanctions by withdrawing the lawsuits within 21 days after a motion for sanctions is filed; and 3) requires monetary compensation for victims of frivolous lawsuits by those filing the lawsuits. H.R. 2655 applies to cases brought by individuals and businesses, "including business claims filed to harass competitors and illicitly gain market share." The bill also applies to both plaintiffs and defendants. H.R. 2655 does not change the standard for determining whether a lawsuit is frivolous under Rule 11; it simply mandates sanctions against the attorney filing the claim and compensation for the victim of the frivolous lawsuit. H.R. 2655 explicitly states that nothing in the bill "shall be construed to bar or impede the assertion or development of new claims, defenses, or remedies under Federal, State, or local laws, including civil rights laws, or under the Constitution of the United States."

September 11, 2013 ~ House Committee Approves Bill on 'Frivolous' Lawsuits

Republicans on the House Judiciary Committee moved forward, over the objection of Democrats, on a bill aimed at reducing "frivolous" lawsuits. The Lawsuit Abuse Reduction Act of 2013, which the committee passed 17-10, would bring back four key sanctions provisions in Rule 11 of the Federal Rules of Civil Procedure. Critics say the legislation would make the judicial system even more litigious and costly. The bill would require judges to impose monetary sanctions against lawyers who file frivolous lawsuits and require any sanction go to the defendant's attorney fees and costs. It also would allow judges to impose additional sanctions, and it would eliminate the 21-day period for parties to avoid sanctions by withdrawing claims. Representative Lamar Smith (R-Tex.), a chief sponsor of the bill, said in a statement today that the bill would eliminate what he described as "legalized extortion." "Lawsuit abuse is common in America because the lawyers who bring these frivolous cases have everything to gain and nothing to lose. Lawyers can file meritless lawsuits, and defendants are faced with the choice of years of litigation, high court costs and attorneys' fees or a settlement," Smith said. He added: The Lawsuit Abuse Reduction Act "encourages attorneys to think twice before filing frivolous lawsuits." At a markup hearing in June, Representative Jerrold Nadler (D-N.Y.) called the bill "a very radical change in civil procedure" and said it would return the legal system to a failed 1983 rule, "which the Judicial Conference rightly rejected after a decade of catastrophic experience." "Rather than serving as a disincentive, the old rule 11, which this bill to a large extent would revive, actually made the system even more litigious and costly," Nadler said, according to a House transcript. "Civil cases routinely became two cases, one on the merits and the other dueling rule 11 complaints." A bill with the same language has been proposed in the Senate by Senator Chuck Grassley (R-Iowa). The House version now awaits action on the House floor.
Frivolous Lawsuits!
Posted: February 12, 2012 - Updated: February 20, 2014 12:55 AM PST Chicago, Illinois -- Michael Jordan, from the beginning, established himself as a dogged competitor. The six-time champion and Basketball was elected into the Basketball Hall of Fame in 2009. Jordan's suing a grocery chain, seeking $5 million in damages, for running an advertisement congratulating him for his election into the Basketball Hall of Fame in 2009. The local Chicago grocery chain Dominick's released an ad congratulating Jordan on his accomplishment, while pointing out that, while you're at it, you can use your Dominick's card or a coupon in the ad to take in the tasty two dollar savings on a "Rancher's Reserve Steak." The advertisement also allegedly sold a few steaks. The ad can be seen below: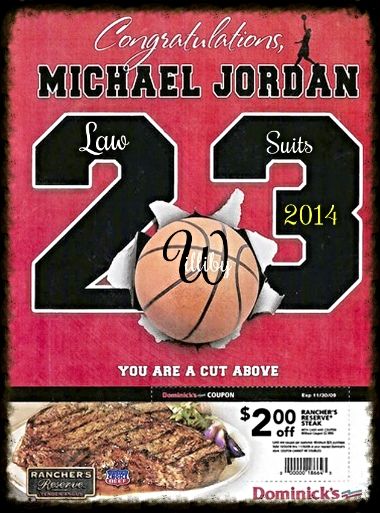 Michael Jordan somehow found out about this and was infuriated enough to initiate a lawsuit against Dominick's for $5 million. Thus far, the suit has just about been laughed out of federal court. U.S. District Judge Milton Shadur, in court testimony from May 22, asked Jordan's lawyer if he was "allergic to the notion that he somehow ought to participate in a lawsuit that he brought?" He rejected a demand from Jordan's attorney that the president of the grocery chain also appear. Shadur, who has ruled that Dominick's is liable for a 2009 magazine advertisement that used Jordan's name without permission, wanted the owner of the Charlotte Bobcats to appear in person to hear the judge's views on what reasonable damages would be, according to court transcripts. "I think it would be a constructive use of time to see whether some element of sanity cannot be introduced into this matter," Shadur was quoted as saying in a transcript of a May 22 hearing. "I thought the demand was greedy," Shadur said of Jordan, who is seeking $5 million in damages for a one-page ad that ran in a Sports Illustrated commemorative issue celebrating Jordan's induction into the Hall of Fame. Judge Shadur has said Dominick's is liable for an advertisement that was "ultimately stupid and really totally without common sense," but the judge also held that Jordan has tried to make a "legal mountain" from a "legal molehill," according to transcripts. Jordan appeared in court this week to attempt to prove why such a lawsuit is necessary. Jordan was able to sneak into the courtroom after a pitched, but failed legal battle by MJ's representation, hoping to keep the most prominent member of this lawsuit away from the proceedings. According to media sources, Jordan was allowed to avoid attention Wednesday by entering the Dirksen U.S. Courthouse through its underground parking garage and then taking a private elevator to Judge Shadur's 23rd-floor courtroom. Judge Milton Shadur hasn't completely ruled out handing damages to Jordan, as Dominick's (which is not just a mom and pop store, but the most prominent grocery chain in the Chicagoland area) clearly did use MJ's occasion to make a band pun on cuts of steak in order to sell their wares. Jordan's famous Jumpman logo wasn't involved in the ad, nor were logos from the NBA, Chicago Bulls, or Charlotte Bobcats, but the company was piggybacking off of the eyeballs sent Jordan's way in order to sell a few steaks as summer wound down in 2009. The case is ongoing.
---
Putative Class Action!
Posted: February 13, 2012 - Updated: February 20, 2014 12:55 AM PST
San Diego, CA
-- Last week, a group of U.S. Navy first responders
filed an amended class action lawsuit in California federal court against Tokyo Electric Power Co. Inc. (TEPCO)
, alleging the utility failed to warn them that they would be exposed to nuclear radiation during their mission to aid tsunami victims in the wake of the Fukushima Daiichi nuclear disaster of 2011. The
putative class action lawsuit alleges TEPCO knew
the Navy rescue personnel were at risk of toxic exposure after an earthquake and subsequent tsunami caused a devastating failure of the Fukushima Daiichi Nuclear Power Plant in March 2011, causing the plant to release substantial amounts of radioactive material.
The plaintiffs allege that more than
70,000 people will be eligible for certification in the class action lawsuit
. These potential Class Members include members of the armed forces and support personnel, as well as their dependents, who served in a variety of capacities related to rescue efforts following the Fukushima nuclear disaster.
According to the class action lawsuit
, Naoto Kan, who was the Prime Minister of Japan at the time, admitted on Dec. 12, 2013 that the first nuclear meltdown occurred at the Fukushima plant just five hours after the earthquake. The plaintiffs allege that TEPCO was aware of the nuclear meltdown but failed to disclose the risk to the U.S. Navy first responders who provided humanitarian aid to the victims of the earthquake and tsunami disaster. "TEPCO was fully aware that the American responders would be exposed to hazardous levels of radiation, yet did not communicate this to the ships and to other responders,"
the class action lawsuit says
. "TEPCO had a duty to inform any and all persons who were, or would soon be in the vicinity of the [Fukushima Daiichi Nuclear Power Plant], of the radiological hazards created by the meltdowns which had occurred and were in progress. TEPCO breached this duty, negligently causing injuries, damages and harm to plaintiffs."
The class action lawsuit accuses TEPCO of failing to properly prepare
for a nuclear accident, even though damage from natural disasters including earthquakes and tsunamis should have been a foreseeable issue. The plaintiffs claim that the disaster had been "repeatedly forewarned since 2008 by industry critics." The Fukushima radiation exposure lawsuit also accuses TEPCO of covering up data about fractured, deteriorating and poorly maintained pipes. The plaintiffs say that just nine days before the Fukushima disaster, the Nuclear Industrial Safety Agency, a government watchdog organization, had warned TEPCO about its failure to inspect critical pieces of equipment at the nuclear power plant. "TEPCO negligently created an illusory impression that the extent of the radiation that leaked from the site of the [Fukushima plant] was at levels that would not pose a threat to the plaintiffs," the class action lawsuit says. "They did so in order to promote their own interests, knowing that the information disseminated was defective, incomplete and untrue, while failing to disclose the extraordinary risks posed" to the first responders involved in the humanitarian mission. Although TEPCO is a Japanese corporation, the plaintiffs argue that
it was proper to file the class action lawsuit in California federal court
because TEPCO "derived substantial revenue from its activities via goods used or consumed in the United States of America" and that the company "expected or should reasonably have expected its acts to have consequences in the State of California" and throughout the United States. The putative class action lawsuit seeks $1 billion to pay all medical costs and expenses for medical examination, medical monitoring and medical treatment for Class Members, as well as special and economic damages including lost wages, punitive damages, and costs of the lawsuit including reasonable attorneys' fees. The Fukushima Radiation Exposure Class Action Lawsuit is
Cooper, et al. v. Tokyo Electric Power Co. Inc., Case No. 3:12-cv-03032
, in the U.S. District Court for the Southern District of California.
Originally Posted: 5:43 p.m.Dec. 17, 2013
A San Diego federal judge has dismissed a lawsuit (
Cooper vs. Tokyo Electric Power Co.[Ruling: Order Granting Motion to Dismiss]
) alleging that U.S. sailors were exposed to dangerous radiation during the humanitarian response to the March 2011 Japanese earthquake and tsunami. But Judge Janis L. Sammartino left the door open for a follow-on lawsuit, and the attorney representing several sailors from the San Diego-based aircraft carrier Ronald Reagan said he intends to refile. The judge dismissed the case Nov. 26, 2013 on jurisdictional grounds, saying that it was beyond her authority to determine whether the Japanese government had perpetrated a fraud on its American counterpart. The lawsuit argued that power company officials lied about the amount of leakage from the damaged plant, in concert with the government of Japan. It says the Navy used those reports in its own calculations about the safety of U.S. sailors in the relief effort, called Operation Tomodachi. The defendant in the December 2012 case was Tokyo Electric Power Co., operator of Japan's Fukushima Daiichi nuclear plant.
---
---